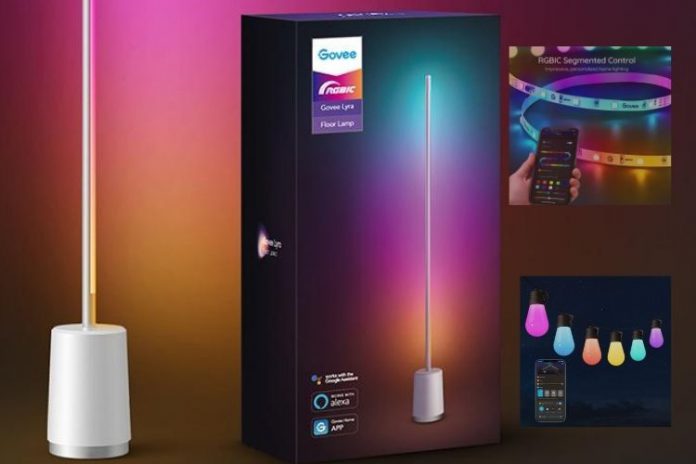 November 4, 2021 marks Govee's fourth anniversary. In return for the great support for their 8 million users, they are holding a fantastic fan festival the Govee Super Fan Festival.
Yes, you read it right the Govee is introducing a new Super Fan Festival deal, which will discount a selection of the brand's most popular products, the shipping for products is also free on all orders.
The Govee Lyra RGBIC Corner Floor Lamp priced at $129.99 is our best selection among the various markdowns.
Govee Lyra RGBIC Corner Floor Lamp
The Govee Lyra RGBIC corner floor when it was earlier this summer released was originally priced at $170.
But it has recently been selling for $150, and with the introduction of the Super Fan Festival deal the Govee Lyra RGBIC corner floor is being the second-best and is at the lowest price in over two months.
The product is now priced at $129.99.
Product Features:
RGBICWW technology.
Philips Hue-inspired design and full-color output.
64+ stunning scene modes.
Comes with reactive music modes.
Alexa and assistant connectivity supported.
Floods the walls with ambient light.
Capacity to emit many colors at once.
(Shipping starts around November 12th.)
If you're planning to buy from Amazon here's the link to that-
Govee Floor Lamp, RGBIC Lyra Color Changing Corner Lamp, Modern LED Lights with Wi-Fi App Control, 64+ Scene, DIY Modes, Music Sync, Standing Lamp Suitable for Bedroom, Living Room, Gaming Room
Futurist & Modern Design: Timeless minimalist design of the floor lamp for living room that infuses sophistication into any Halloween decor. With a textured satin aluminum finish and compact base unit, which elevates your space and suitable for gift.
Cutting-Edge RGBICWW Technology: Savor multi-color displays as customized from 16 million total colors, 2200k-6500k warm/cool whites, and 1500 lumens of brightness. Upscale ambiance for hosting get-togethers, watching movies or reading and relaxing.
64+ Scene Modes: Find the lighting that expresses your mood or celebrates your favorite holidays with our diverse mix of scene modes. Change up your scenes in one tap and watch the colors naturally transition from one scene to the next.
Get Creative With DIY Mode: Using our Govee Home app, finger-sketch your own custom color effect, plus show off these creations to the community where others can add your DIY effects to their own Halloween light.
Dimensions & Voice Control: The floor lamp measures about 1400mm x 137mm and with the hands free control via Wi-Fi, you can spend more time doing what you love. Change the colors and effects of your LED lights by using Alexa or Google Assistant.
Before proceeding, be sure to visit the Govee Super Fan Festival sale and examine all of the offers. Everything & every deal & discount is divided into groups depending on the rankings of Govee owners.
Here are some other products that fall under the price range of $100 in the Govee super fan festival 2021-
RGBIC Bluetooth LED Strip Lights:
The 65.6ft RGBIC Bluetooth LED strip lights are now available at $59.39 under the Govee super fan festival 2021. The product is originally priced at $65.99.
Product Features:
Can be controlled using Bluetooth & with App.
Displays multiple colors at same time.
65.6ft long LED strip.
2 x 10m rolls.
Amazon link for the same-
Govee 65.6ft RGBIC LED Strip Lights, Color Changing LED Strips, App Control via Bluetooth, Smart Segmented Control, Multiple Scenes, Enhanced Music Sync LED Lights for Bedroom, Party (2 X 32.8ft)
Breathtaking RGBIC Effects: With built-in IC chips, the smart LED strip lights can display multiple colors simultaneously. Reinvent your college dorm decor with vibrant colors and effects from RGBIC lighting. (Not support Alexa and Google assistant)
More Length, More Impact: 65.6ft RGBIC led strip lights provides multiple design options over a larger area. Equipped with 5050 LEDs, giving you brighter color than traditional LED lights. (Note: the strip lights are uncuttable)
True Segmented Color Control: Each color changing led lights is divided into 15 segments which can be controlled individually. Create your own lighting design and creative DIY in Govee Home App.(Only Bluetooth control, do NOT support WiFi connect)
64 Scene Modes: With so many scenes, you can create a stunning backdrop for intimate get-togethers or lively parties. The Effects Lab and Color Gallery in Govee App provide an array of design options and inspirational ideas for back to school decor.
Upgraded Music Mode: The built-in high-sensitivity mic syncs to the music producing spectacular light shows and dynamic decor for classroom and dorm. Mutiple music modes, Energic, Rhythm, Spectrum, Rolling, Dynamic and Calm.
Outdoor Bulb String Lights:
Want to create warm, inviting outdoor vibes for your family and friends? Well, Govee RGBW Wi-Fi & Bluetooth outdoor bulb string lights are the perfect deal for you.
The product comes in two measurements the 48ft & 96ft.
Product Features:
Supports smart app, Alexa/Google support.
Comes with music sync mode.
Set timmer & schedule as you wish.
Comes with IP65 waterproof and shatterproof.
Offers 40 vibrant scene modes.
Govee Outdoor String Lights, 96ft Smart Outdoor String Lights with 30 Dimmable Warm White LED Bulbs, 2 Ropes of 48ft IP65 Waterproof Shatterproof Patio Lights for Party, Camping, 70lm per Bulb
Smart App Control: Use Govee Home App to enliven the smart string lights and to power on/off or control 0-100% brightness. Must combine 2 ropes of 48ft string lights for normal use. It`s recommended that the total length should not exceed 96ft.
Dimmable Lighting: Adjust the outdoor lights between 1% and 100% via the smart app control when entertaining or relaxing. Enjoy party, dating, and friends gatherings in a stylish, smartly lit environment.
Shatterproof: With a heavy-duty plastic lampshade, outdoor decor lights provide durability and safety. A tough plastic shell protects bulbs from falls, knocks, and accidents, providing a safe, lasting outdoor lighting solution.
IP65 Waterproof: The govee outdoor lights with IP65 water-resistant rating are waterproof, sunproof, snowproof, and safe for outdoor use. Enjoy year-round waterproof patio lights no matter the weather. The adapter is not waterproof.
Energy Efficient and Long Lasting: Hanging lights for patio with only 0.8W consumption per bulb, these durable lights save energy and money. With a 20,000 hour lifespan, the LED light bulbs last 10 times longer than tungsten glass bulbs.
One can easily compare the prices & offers both on Amazon & the official website as many of the products are not available on delivery on the website.
So choose the best deal based on your requirement & let's lighten up your homes & neighborhood this holiday season.